10 Questions with Krista McDonald
Wow, has it been a long time since we did a new edition of "Get to know the Lauria Team"! We have not had any new additions to the staff for a little while and the remaining people who we had not introduced to our rabid blog-reading fans are all still too chicken to let me do this to them.
Good news for all involved however as we have some new blood added to the staff in the last few weeks and they don't realize yet that they can say no to doing this so I should have some new "10 Questions" posts soon. I know that will make the millions of people reading the blog every week feel a whole lot better!
Up this week is our newest salesperson, Krista McDonald. Krista has been with Lauria for a couple months and is already off to a great start, with many happy customers already!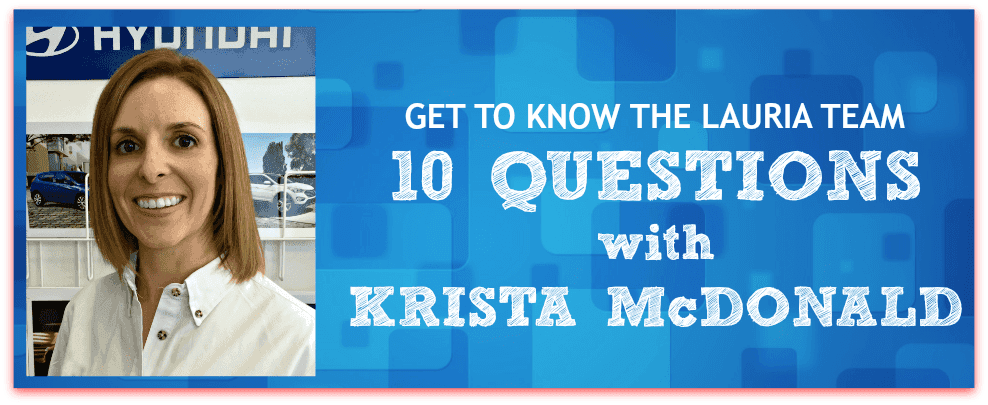 Krista comes to Lauria after 12 years working for Bell where it sounds like she had a chance to do many different jobs and worked with a ton of new customers everyday, so she is awesome to deal with. Krista has lived in the Port Hope area for about 16 years, has 4 fantastic kids, a cool husband, and an amazing puppy named Lacey. I don't know what makes the puppy amazing, I am just going by what she wrote….
Right off the bat it needs to be mentioned that Krista can quote lines from Adam Sandler movies, so right off the bat she is looking pretty cool. Now, here is what we have all been waiting for, 10 Questions with Krista McDonald:
Q). If you could live anywhere, where would it be? Why?
A). Quebec City, it's just such a nice city with a
Editor's note: That is not a mistake. That is actually what she wrote. So rather than ask her to let me know what she thinks is so great about Quebec City I am going to let this be a choose your own adventure to finish her answer:
1). "rich history and amazing culture."
2). "vibrant nightlife and exciting entertainment options."
3). "lot of French people, speaking French."
Q). What is your favourite Holiday? What do you like to do?
A). I love Christmas. There's something magical about the Christmas season. I love spending time with family and friends, seeing my kids on Christmas morning and all the delicious foods. I also love the snow and waking up on Christmas morning to a white Christmas just makes me smile from ear to ear.
Q). What is your favourite movie? Why?
A). "Meet me in St.Louis". I just love musicals and this is a great story about a year long journey in 1903 for the Smith family. Judy Garland is just magnificent and the song "Have yourself a Merry little Christmas" was written for this film.
Editor's note: It's no "Rocky IV", but to each their own I guess:
Q). What do you enjoy most about working at Lauria?
A). This is a new challenge for me, but I've enjoyed working with all the Lauria team and all the clients I have had the privilege to deal with thus far. The entire Lauria family has been so welcoming and kind and it's been a great experience so far.
Q). What are your hobbies?
A). I enjoy reading, hiking, traveling – whether it is a day trip or a vacation to Mexico – adventure of any kind! Yoga, I love listening to music, going to musicals and concerts. I also like baseball and the Jays, trips to the Toronto Zoo, and spending time with family and friends.
Q). If you could go back in time and change one things, what would it be?
A). There are a lot of things I would go back and change. I really wish Canada had adopted Turks and Caicos back in 1917. Wouldn't that be amazing??
Q). What is your favourite band and favourite song?
A). Favourite band is the Beatles, "You've really got a hold on me". Michael Buble's "Cry me a river", or perhaps Frankie Valli and the 4 Seasons' "December, 1963". This is an insanely tough question though. I love listening to just about ay kind of music from various eras.
Editor's note: Always the tough-hitting questions here on Mosley's Musings! Of those 3, I think I will let you enjoy the Beatles.
Q). What celebrity would you most like to go on a date with?
A). I would go on a date with Ryan Reynolds or Michael Buble. It's a tough one but I'd be OK with either of them!!
Editor's note: Bonus points for Ryan Reynolds in a Hyundai commercial!
Q). If you could have dinner with and 3 people, alive or dead, who would it be? What would you ask them?
A). I'd have dinner with Robin Williams, Judy Garland, and Ryan Reynolds. Who wouldn't want to have diner with one of the funniest men ever, Dorothy, and Deadpool? I'd ask about their lives and what it was like growing up. I'd love to hear about their trials and tribulations as well as their successes and failures. I enjoy listening to other people's stories!
Editor's note: I feel like Ryan Reynolds and Robin Williams would get along well for some reason. I would like to be in on that too.
Q). Who is your hero?
A). I really admire Clara Hughes. She's conquered both the Winter and Summer Olympics while struggling with Mental Illness. I'm so thankful that she was brave enough to share her battle with depression and to advocate for the awareness of Mental Health. She make me proud to be a Canadian.
Editor's note: Can't really argue that one!
Well, there we have it. Another enthralling edition of 10 Questions is under our belt! I feel like I know Krista a little better after doing this, and I would certainly encourage you to come on in and say hello the next time you're around! If you happen to also want to buy or lease a new Hyundai while you're here, well, that would be cool too!
Until next time, this is your courageous and dashing blog writer signing off…