Autotrader.ca reviews the 2022 Kona N
2022 Hyundai Kona N Review and Video
Fun and (somewhat) practical with tons of personality
Originally published June 10, 2022 on autotrader.ca by Jody Lai. To see original please
click here
.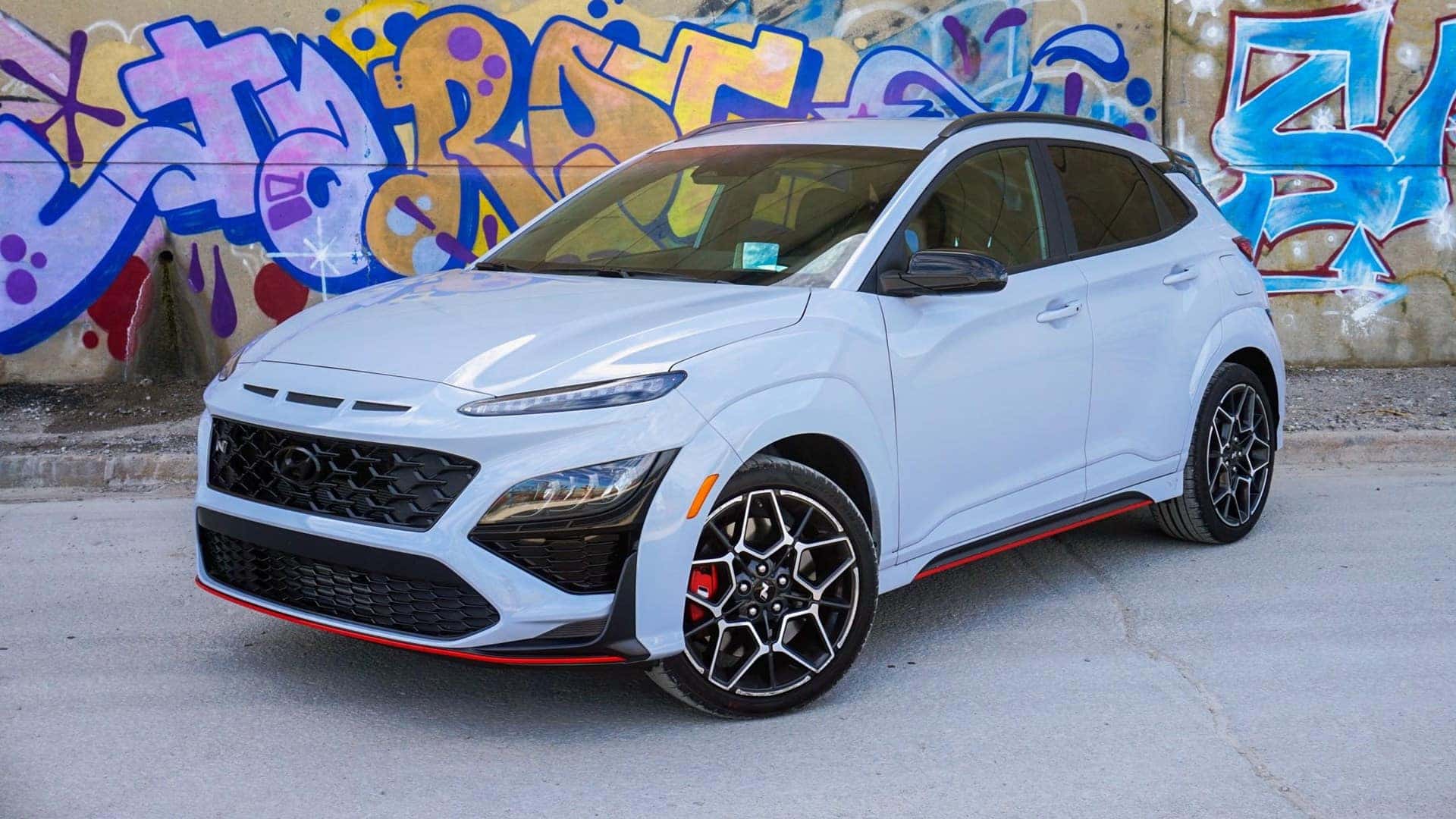 I was already a fan of the Hyundai Kona – it's a well-rounded subcompact crossover that's one of the best out there.
The electric version is also excellent, and now with the 2022 Hyundai Kona N, there's a performance variant to make the lineup even stronger. Call it a crossover if you like, but it's more or less a hot hatch, and it's a blast to drive.
Driving Feel: 9/10
The regular gas-powered Kona is a fantastic base for the hopped-up N version because it already drives well without any performance upgrades. With upgrades all around, the Kona N feels like a hot hatch. I know it's technically a crossover, but it doesn't feel like one. On the hot hatch spectrum, it lives in between the Volkswagen Golf GTI and the since-discontinued Ford Focus ST; it's not as refined as the former, but also not as rascally as the latter, so it strikes an excellent balance of being both composed and fun. It has much more personality than the GTI, which tends to feel rather serious.
In its regular driving mode, the Kona N feels, drives, and sounds pretty much like the regular Kona, with the biggest exception being how incredibly stiff it is. Hyundai upgraded the suspension so the Kona N handles better and has more stability at speed, but the trade-off is how jarring it can feel over broken roads. My passengers were bouncing all over the place and it's impossible to have a sip of a nearby coffee or water in the Kona N. That's more a warning than a complaint, because the payoff in how well it handles is worth it. The steering is also a highlight; it's weighty, responsive, and accurate.
This little crossover is so eager to dive into corners and explode out of them. It's easy to manage driving the Kona N quickly and you don't have to be a pro to have lots of fun with it. It's very gratifying to drive quickly and it's tons of silly fun.
When you flip the Kona N into sport mode, its personality really shines. The exhaust gets really animated and it holds gears for longer to keep the engine in its sweet spot. This brings also us to the red "NGS" button on the steering wheel. It's not immediately clear what that acronym stands for, but the button looks very inviting to press. Apparently it stands for "N Grin Shift," which is Hyundai trying to be cute, but it should have just labelled the button BOOST instead for the sake of user-friendliness. Pressing the NGS button unlocks 20 seconds of extra performance by using the engine's overboost to crank out 10 more hp. Some drama unfolds when using NGS, and it's all very silly but adds to the Kona N's fun factor.
Power: 9/10
The Kona N is powered by a 2.0-litre turbocharged four-cylinder engine with 276 hp and 289 lb-ft of torque. It gets power to the front wheels via an eight-speed automatic dual-clutch transmission (DCT). Like other similar transmissions, there's some juddering when you're creeping forward, but in general, the DCT is good at knowing where it needs to be, shifting quickly and – mostly – seamlessly. There are also paddle shifters, if you prefer.
Some complaints about the Kona N's powertrain will be that it's not all-wheel drive and that there's no manual transmission. If driving enthusiasts want a manual, the Elantra N and Veloster N are available that way, but driving more wheels adds weight, cost, and complexity, so the fact that it's front-wheel drive is OK with me. AutoTrader's Road Test Editor, Dan Ilika, says it would have been cool to see Hyundai pushing the limits of its powertrain and engineering by offering an all-wheel-drive version, since the automaker has already proven that it knows how to make wickedly fun and capable front-wheel-drive performance cars.
Because the Kona N is front-wheel drive, there is some noticeable torque steer when you mash the throttle, so you'll have to put some extra effort into holding the steering wheel steady. If you're going absolutely ham into a corner, you'll also feel some understeer, but it's easy to manage and isn't too pronounced, especially since there's an electronic limited-slip differential that can divvy up torque between the front wheels depending on where it's needed, which helps limit understeer and increase control.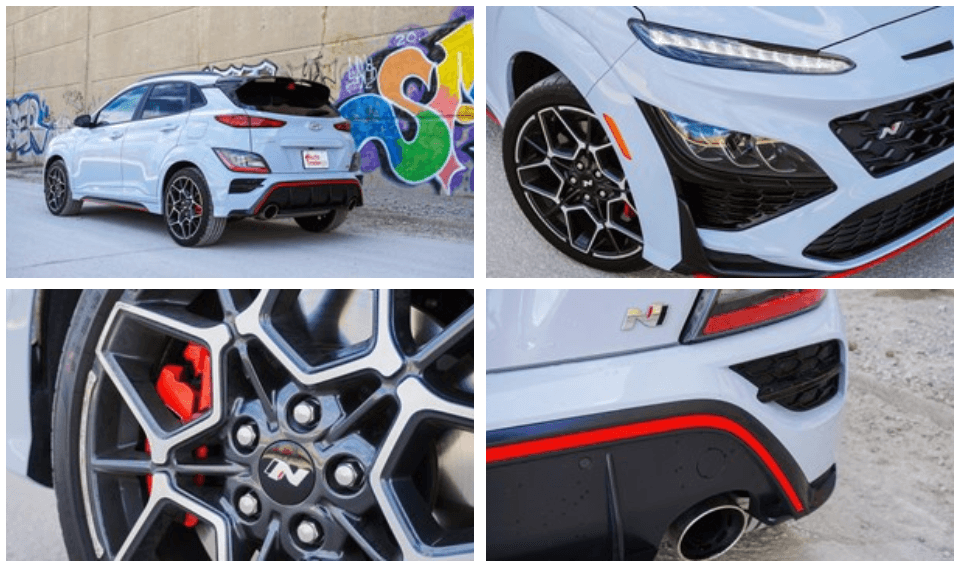 Style: 9/10
Hyundai did a fantastic job styling this pocket rocket; it looks fun and sporty without coming off as juvenile. While there are a few fake vents killing my vibe, most of the added flair is functional or just plain cool. The red trim and details throughout make the crossover stand out and hint that it's special. The 19-inch wheels are killer and I love the pop of the red brakes in between the spokes. Hyundai also removed all the plastic body cladding so that the Kona N looks more like a hot hatch and less like a crossover.
Around back, the comically large spoiler somehow looks extremely cool and the fact that it's black and not body-coloured helps tone it town noticeably. It even has a race car-inspired triangular brake light and huge exhaust tips.
I wish Hyundai went even harder with the red and baby blue accents inside to help make the cabin pop more. The suede bucket seats with leather bolsters have baby blue contrast stitching and the red NGS and customizable baby blue N buttons on the steering wheel also help to make it feel sportier and differentiate it from the rest of the Kona lineup.
Features: 8/10
Besides all the performance upgrades like gauges, lap timer, and launch control, for example, the Kona N comes standard with a generous list of comfort and convenience features like heated front seats, a heated steering wheel, head-up display that projects onto a pop-up plastic screen, automatic climate control, a digital instrument cluster, 10.25-inch touchscreen, Android Auto and Apple CarPlay (both need a wired connection), and a wireless phone charger. Adaptive cruise control is the only notable omission.
User-Friendliness: 9/10
The Kona N has all the same intuitive controls and ease of use in the rest of the Kona lineup. All the buttons are clearly labelled (even though the NGS button's acronym isn't clear, it's obvious it means "go fast"), the infotainment screen's menus are easy to navigate, and most functions are where you expect them to be. The layout and functionality are immediately familiar.
Comfort: 8/10
The front buckets are supportive and do an excellent job of keeping your butt planted while hustling through corners. Even after a long drive, the seats were still comfortable and no fatigue settled in. The back is a bit cramped and my 6-foot-3 passenger can't comfortably sit behind himself, but for shorter people it was not a big issue. The most significant roadblock to comfort is how stiff the Kona N is – it might be too rigid for some people to handle daily.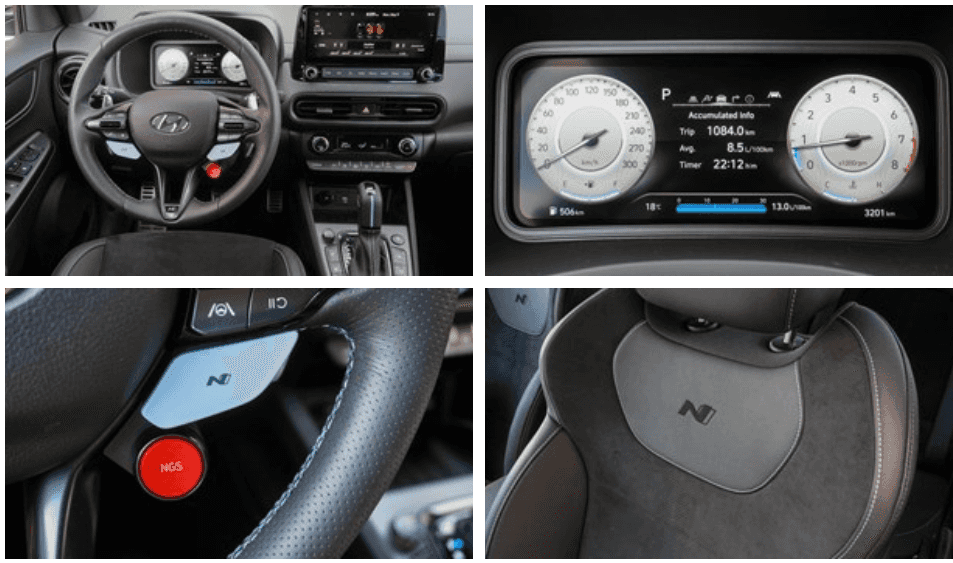 Practicality: 8/10
Space has never been the Kona's strong suit, but if you've always wanted a Veloster N but were turned off by its weird asymmetrical three-door layout, then in comparison the Kona N is way more practical and doesn't sacrifice too much in terms of performance. The trunk holds just 361 L and 1,143 L with the 40/60 split rear seats folded, and the cabin has plenty of cubbies for small item storage.
Safety: 9/10
The Hyundai Kona N comes with all the brand's safety and driver-assistance systems including forward collision avoidance with pedestrian detection, blind spot monitoring with rear-cross traffic alert, lane tracing and keeping assist, safe exit warning, driver attention warning, rear occupant alert, and automatic high-beam control.
Fuel Economy: 8/10
For a performance vehicle, the Kona N's fuel economy is decent. It's officially rated at 11.8 L/100 km in the city, 8.7 on the highway, and 10.4 combined. After a week of driving (and it wasn't gentle driving, either), I was getting 8.5 L/100 km – better than its official ratings, though keep in mind that it requires premium-grade fuel.
Value: 9/10
The 2022 Hyundai Kona N only comes in one fully loaded model that starts at $40,199 plus an $1,825 destination fee. For just a wee bit more money than the Elantra N and the Veloster N, you get added practicality. What might get in the Kona N's way is the fact that a Volkswagen GTI ranges from $31,495 to $38,995 with the mid-lineup model offering equally as much as the sole Kona N model and the choice of a manual transmission.
The Verdict
I was surprised by how well the 2022 Hyundai Kona N handled both daily commuting and fun backroad driving. While it's a bit too stiff for most days, the payoff in how it handles is well worth it. I think it looks cool, it's super fun to drive, has lots of personality, and – compared to the other N models, at least – it has some added practicality, too. If you're looking for something unique and sporty but also sort of practical, you should definitely check this hot hatch out.