First Drive: 2019 Santa Fe 2.0T Ultimate
First Drive: 2019 Hyundai Santa Fe 2.0T
Completely redesigned midsize SUV has a lot to offer in a hotly contested category
Written by: Costa Mouzouris – Driving.ca August 27, 2018
KANANASKIS VILLAGE, Alta. – When you offer a vehicle in one of the most popular automotive segments in Canada, a segment that includes top-sellers like the Ford Edge, Honda CR-V, Nissan Murano and Subaru Outback, you'd better have a lot to offer. Hyundai's offering in the midsize SUV segment, the Santa Fe, has been redesigned from the ground up for 2019. As is the norm with any generational redesign, the Santa Fe has grown in size, it has been made more efficient, it has gained a plethora of safety tech — and it has a lot to offer.
Wheelbase has been increased by 6.5 centimetres, overall length by 7 cm, and it is 1 cm wider. The new five-passenger Santa Fe, formerly known as the Santa Fe Sport, is built on Hyundai's SuperStructure chassis, which will eventually underpin all of the Korean automaker's models. It utilises 14 per cent more high-strength steel than the current chassis, has more reinforcements, and is 15 per cent more rigid tortionally. Aluminum has also replaced steel on items such as the front suspension knuckles and rear suspension carriers, which contributes to a weight loss of between 65 and 90 kilograms depending on the model.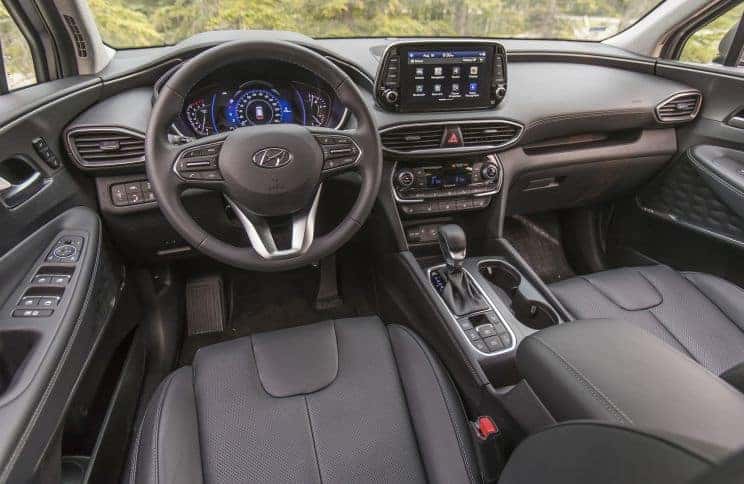 The larger exterior dimensions have added more than 200 litres of interior space, which now boasts 1,016 litres of cargo capacity in the luggage compartment, and 2,019 litres with the rear seats folded down. This is on par with its competitors, bettering some while marginally less than others. Hyundai has made the best of the available space, however, and the centre armrest console contains a cavernous storage compartment that easily swallows two full-sized cameras with room to spare, and in the cargo hold is a rather spacious under-floor storage compartment, and a second one that contains a mechanical jack — a spare is hidden beneath the vehicle.
Gone are the days when humdrum styling was the norm for SUVs, and the Santa Fe has a refreshingly sleek silhouette. A redesigned front end has narrow slits below the hood that contain LED daytime running lights, and large headlight openings on either side of the gaping grille that contain either LEDs or halogens depending on the trim.
The same engines return for 2019 — a 2.4-litre naturally aspirated four and a 2.0-litre turbocharged four — and they claim 185 hp/178 lb.-ft and 235 hp/260 lb.-ft. respectively. The six-speed automatic they were mated to has been nixed, however, in favour of a new eight speed, which has a lower first gear and taller top gear than the previous unit. It's a very smooth-shifting transmission — almost too smooth, sometimes feeling like a CVT — and it contributes to a slight reduction in fuel consumption, mostly on the 2.4-litre engine, which sees a half-litre improvement, claiming 9.6L/100 km combined on the front drive model. The 2.0L, which is only available with AWD, claims 11.2L combined, which is unchanged.