Get to know the Lauria Staff – 10 Questions with Les Grimshaw
Yes, I know. It has been a long time since you, the Lauria Blog reading public has had a fix for your "10 Questions" fix.
Well, I apologize. I have had a few employees that were simply to shy to be introduced to the public on such a world famous blog.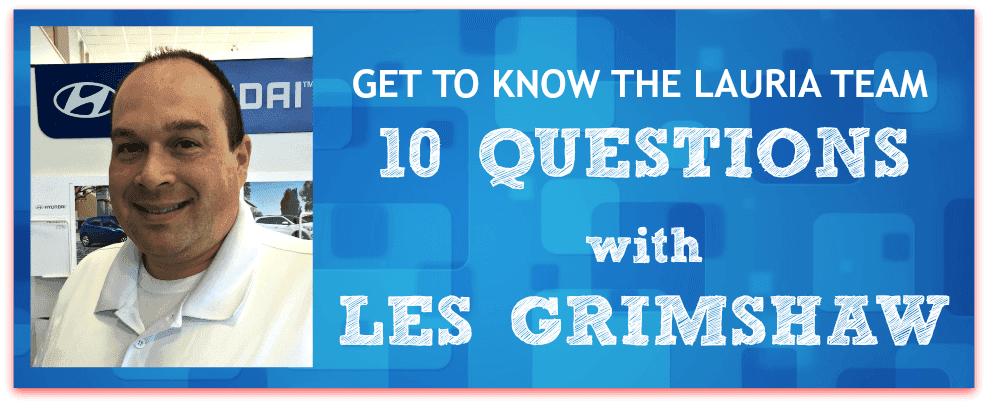 .
Have no fear we here at Mosely's Musings are back with another insightful and wildly entertaining edition of "Get to know the Lauria Team".
Up this week is our new Assistant Sales Manager, Les Grimshaw!
Les joined the Lauria team a couple months ago and has quickly become a big part of the sales team. He was born and raised in Port Hope and has called it home his entire life.
On a side note, I just learned that Les is a big fan of the WWE and will likely hate me for making this public, but I am just happy to have another adult to discuss the exploits of The Undertaker and the finer points of the Sharpshooter!
Here we go, 10 Questions with Les Grimshaw:
Q. If you could live anywhere, where would it be? Why?
A. Canmore, Alberta. A very small town with very picturesque mountains.
Q. What's your favourite holiday? What do you like to do?
A. My favourite holiday is Christmas when you get to spend time with family. Having turkey dinner and doing the traditional holiday favs, like watching "A Christmas Carol" on Christmas Eve while wrapping presents!
Q. What is your favourite movie? Why?
A. "Star Wars". Just reminds me of my childhood. How cool would it be flying across the galaxy battling evil and saving the day? Or even working for the Empire and bringing order to the world in a galaxy far, far away!
Editor's note: Who wants to work for the Empire?? The wages would be terrible and they keep blowing up the Death Star!
Editor's note 2: This is where I usually post a trailer for the movie, but honestly who hasn't seen Star wars? So here is a trailer for the upcoming "Rogue One", which looks awesome!!
Q. What do you enjoy the most working at Lauria?
A. Working around cars, and interacting with our customers.
Q. What are your hobbies?
A. Watching movies, hockey, baseball, and Nascar.
Q. What is your favourite band and favourite song?
A. Guns N Roses, and "Sweet Child o' Mine"
Editor's note: Can not knock these picks at all!
Q. If you could go back in time and change one thing what would it be?
A. Go back and write the lyrics to the song "You've lost that Lovin' Feeling"…the most played song of all time.
Editor's note: That is one of the more original ideas I have heard. Still gotta go with the Sports Almanac idea though myself….
Q. What celebrity would you most like to go on a date with?
A. Debbie Gibson
Editor's note: I think it is clear that Les is a child of the 80's!!
Q. If you could have dinner with any 3 people, alive or dead, who would it be? What would you ask them?
A. George Lucas – ask him "why did you make Episodes 1 – 3?" Editor's note: This might be a good use of the time machine too!
A. Mike Myers – "why haven't we got another Austin Powers movie?"
A. Robert Downey Jr. – "when you play Tony Stark in Iron Man, are you really acting or just being yourself?"
Q. Who is your hero?
A. Aside from Iron Man, my Grandpa Lawrence. He was a great local business man.
Personally, I think it has a lot to do with these fantastic interview questions and solid editor's notes…
Be sure to come and visit Les for your next vehicle purchase. You will be sure to be greeted with a smile and he will work his butt off to make sure you are completely satisfied every time you come down to Lauria Hyundai! That is all for now from us here at Mosely's Musings, have a great day!