Hyundai Kona Awarded as AutoGuide.com's 2019 Utility Vehicle of the Year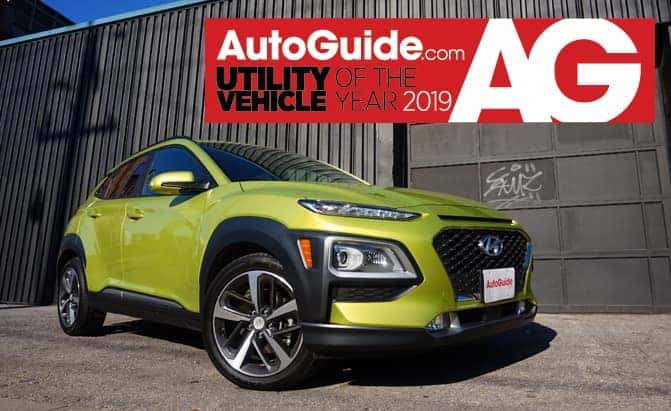 The Hyundai Kona subcompact crossover has been awarded as AutoGuide.com's 2019 Utility Vehicle of the Year.
This small CUV has truly raised the bar for its segment, but what really helped it seal the win is the fact that it's also available as a fully electric model in the Kona EV. The entire Kona lineup addresses many of its competitors' shortcomings to offer a fully featured and well-rounded crossover. The Kona is refreshing and makes it clear that Hyundai isn't interested in cutting corners or making lackluster vehicles.
Hyundai has had a strong year and its Veloster lineup was also in the running for AutoGuide.com's 2019 Car of the Year. The Genesis G70 from Hyundai's luxury brand ended up taking the win.
"We are thrilled the editors of AutoGuide recognized the Kona and Kona Electric models as CUVs worthy of their highest recommendation," said Mike O'Brien, vice president, Product, Corporate and Digital Planning, Hyundai Motor America. "Kona is an affordable, stylish and functional compact CUV, tailored to the needs of customers who pursue active lifestyles of all kinds. Even more, AutoGuide is both highly discerning and selective, so their recognition of Kona as their 2019 Utility Vehicle of the Year is certainly a strong indicator of Kona product line excellence."
The Hyundai Kona faced some stiff competition to win AutoGuide.com's Utility Vehicle of the Year award. It beat the shortlisted Toyota RAV4, Nissan Kicks, Subaru Forester, and Volvo XC40, all very impressive crossovers that each bring something new and important to the segment.
The Genesis G70 was awarded as AutoGuide.com's 2019 Car of the Year, so it's clear that parent company Hyundai is working hard to shake things up.