Introducing the SANTA FAST
Jason Siu from Autoguide.com wrote a cool post about Hyundai's latest creation heading to SEMA 2016!
Here are the details from his article below: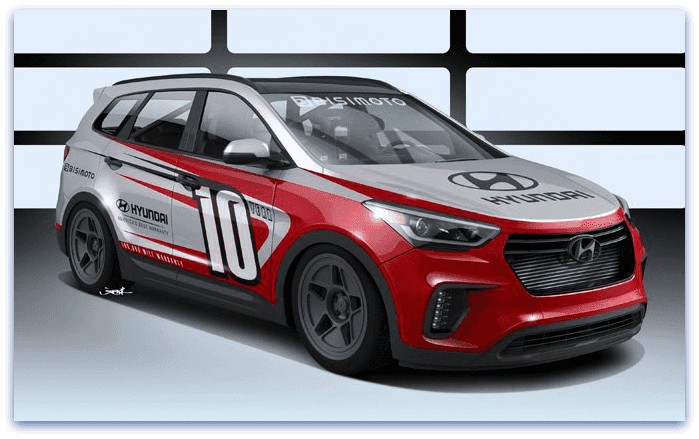 Once again teaming up with famed tuner Bisimoto, one of the Korean automaker's creations this year will be a 1,040-horsepower Hyundai Santa Fe SUV that the team is calling "Santa-Fast." The power will come from a flex-fuel 3.8-liter V6 engine that features a long list of modifications, including a custom Bisimoto twin-turbo kit and intercooler, Arias forged pistons, Brian Crower steel rods, Bisimoto-Web camshafts, Supertech valvetrain and more.
To help get all the power to the ground, Bisimoto has swapped out the standard transmission for a six-speed manual Genesis R-Spec transmission and has further reinforced it with a Spec stage-5clutch and aluminum flywheel. The Santa-Fast will also boast a rear differential from the Hyundai Equus.
To give it a stance SEMA showgoers will appreciate is a set of KW coilovers, while all four corners feature 19-inch Fifteen52 Tarmac R40 wheels paired with 265/35/19 Toyo R888 tires. Enhancing braking performance are Buddy Club four-piston calipers.
The 2016 SEMA Show will kick off November 1, 2016 at the Las Vegas Convention Center and you can check back with AutoGuide.com for live coverage of the annual event.
"Bisimoto takes pleasure in making any vehicle fun to drive, even a larger SUV," said Bisi Ezerioha, owner of Bisimoto. "Our Santa-Fast SUV is a proof-of-concept vehicle with driving capabilities that our customers can count on every day they turn the key."