The Lauria Hyundai Blog – Veloster SEMA Concept
Every November the SEMA show in Las Vegas produces some of the coolest, and most unique vehicle concepts you will ever see, and this year looks like it will be another very exciting one for Hyundai. We have already seen concept art of the SANTA FAST, a 1000hp Santa Fe, and also the Rockstar sponsored version built to tackle any off-roading job mother nature throws at it.
The latest concept art to come out is a partnership with Gurmade to create an incredible race-ready Veloster! The Veloster is already a very aggressive and unique vehicle to start with, so it will be very cool to see what comes of this when the actual vehicle is shown in a few weeks.
I will leave the details to this article written by Jason Siu of AutoGuide.com on October 12th: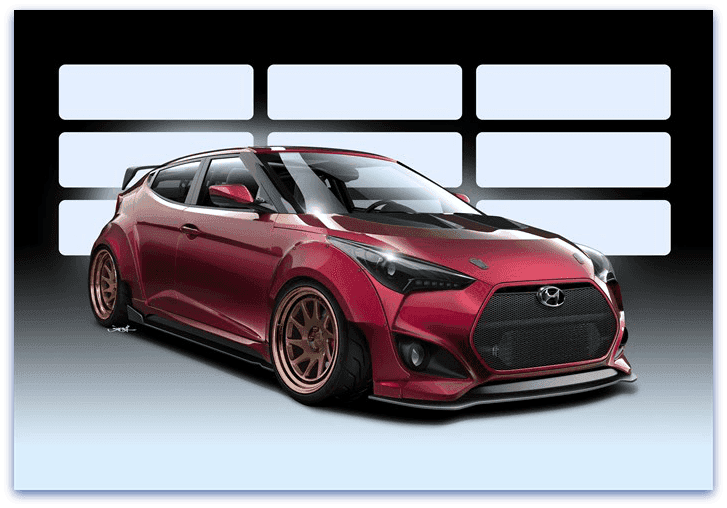 The third of Hyundai's 2016 SEMA projects has been announced: a race-ready Veloster by Gurnade, Inc.
The Gurnade Veloster Concept looks to take the already aggressive stance of the compact hatch and make it even more fierce with integrated flares, front splitter, racing canards, three-piece lightweight forged wheels and a custom rear spoiler. Performance modifications to the Veloster include an upgraded ECU tune, intercooler, downpipe and cold-air intake from 845 Motorsports, a Synapse blow-off valve and an ARK Performance cat-back exhaust.
Suspension upgrades will comprise of a set of coilovers from NEO Motorsports, while Pierce Motorsports will contribute a strut bar, rear torsion bar and tie brace. Braking performance will be enhanced with a six-piston big brake kit also from NEO Motorsports, and concealing those calipers will be 19-inch Rotiform OZT wheels paired with Toyo tires.
The exterior will be finished off in a PPG Refinish Magic Magenta paint, while the folks at Lightner Motorsports are handling the custom fender flares and grille. On the inside, Gurnade will outfit the Veloster with plenty of upgrades, including Cobra Nogaro racing seats, Takata racing harnesses, a Pierce Motorsports roll cage and Glowshift gauges with LEDGlow lighting.
"Gurnade has always been drawn to the uniquely aggressive lines of the production Veloster," said Joshua Cloud, owner of Gurnade, Inc. "So when Hyundai approached us with the opportunity to develop one of their vehicles for SEMA, we didn't hesitate to create the Gurnade Veloster Concept. It leverages all the strengths of the Veloster and takes it where we always envisioned it could go."
Check back to Mosley's Musing in early November to find out how this Veloster looks in real life!